looking forward to it. xenogears and res evil HD remaster are getting warm on my wishlist priority. Cannon Fodder tonight. (will be my first game on amiga) will check the cast this weekend.
Mass Effect: Andromeda hype!

P.S. I'm casting my vote in favour of Peter Plays an Indie segment.
Ninja Theory's next game is Hellblade:
Last sequential post, I promise.
I realize that the pronunciation of bmo/BMO might not be obvious. For those curious:
Here I thought you had the easiest name, no way to get it wrong, and you had to go and crush my hopes and dreams.
Is anyone else having issues with this episode on itunes? It won't dl for me. Episode 002 was fine, easy as cake, but 003 isn't downloading to my computer. Same issue with the Grouvcast site.
I listen to podcasts in Overcast. It worked well. If that's an option for you I recommend it, it's a great app. I just tried the Grouvecast site and it seemed to work. I can try iTunes and let you know if I experience any issue.
Update: yeas I'm having issues in iTunes as well. Attempting to download it leads to a refresh and nothing else. Strange.
I'm old school and like to grab the file and stick in on my ipod classic from 10 years ago. Not sure why it won't save to my computer.
Something seems to be up with it. If I download the raw MP3, VLC reports it as being 15 minutes longer than it really is. It plays OK through the web player, Overcast, and iTunes, but something's wrong. I'll re-export it and post it here in a few minutes.
I've re-uploaded the new file now. Hopefully it fixes your issues.
On a sidenote, am I tagging everything well enough that the podcast organizes itself OK on your iPod?
Still not working peter. I updated itunes too.
They show up as podcasts on my ipod. So that's fine.
I'll try dl from the podcast Grouvee site now.
@peter I can't get the file in a playable format.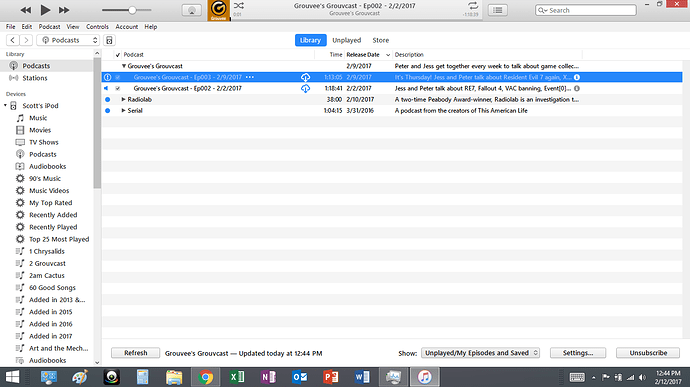 it gives me an ! symbol
Well crap. Let me look at what's up here.
The intro music was messing it up.
I changed it up, and it is playing in iTunes now.
Try one more time for me! You'll probably have to pull it down from the grouvee site since I'm sure iTunes caches files for a while.
Thanks peter. I'll check it out shortly
Cool. It looks like iTunes will actually download the right file now too.
Note to self, don't use a file that you get from one of those YouTube downloader sites as intro music! I think that just boned the file up for iTunes.
Success! It freakin works! Thanks for your perseverance.
Now that I listened to it, it's the worst episode yet. Pure rubbish. Merely joking. I haven't listened yet.
You and Jess make a great team. She's the PC gaming master race and you're the inferior console gamer. It's ok man, I'm a hybrid but also inferior to @Jess
good show. I actually want to play just about all of these games mentioned but am starting from the beginning or eariler in the series to catch up (or other 'reasons'). I think i'll be able to start Hd res evil 1 this month.
my jrpg hitlist is FF6, Xenogears and Suikoden II and Shin Megami Tensei and maybe FF7 remake (I want to play Shin Megami Tensei first anyway even though it isnt necessary to enjoy persona 4, same is probably true of FF6)