2020 was some kind of year. I imagine we all started the year expecting something wholly other than the year that unfolded. It's almost hard to think about things like a list of top games in a year that saw so much pain and agony. Yet games were also what shepherded many people through difficult times. While not everyone has the luxury to share this hobby that we all enjoy, it is still a reason for community during a time that many of us have been driven apart from family and friends Many of us sought solace in the games we could play in 2020. And we took inspiration from one another via the games we recommended each other, and the discussions we started as a result. So as a way to continue sharing and creating discussion, here are my 10 personal favourite games released in 2020, with honourable mentions (in a rough reverse chronological order):
Animal Crossing: New Horizons : there is one game that dominated my entire year, and that is ACNH. There are few games I have devoted that much time to in a single year, with only World of Warcraft and Final Fantasy XIV rivalling ACNH. It's an impressive feat for a game that is simply about chilling on a desert island. But in 2020, a lot of us needed just that. Animal Crossing was an escape for my partner and I, a way to experience things that resembled normal when few things in our actual lives could be classified as normal. ACNH was a retreat, an ideal place to be our second home, where we could dress, decorate and do anything we wanted to. And, as of 2021, it remains that second home and refuge. I suspect ACNH will continue to be a part of our daily experience in this new year.

If Found…: I'm still negotiating my review of If Found. It's a game I found deeply affecting, one that left me utterly drained at 2AM when I finished playing it. It deserves so much more than I can muster to say, but I am still so close to the moment I finished it that I still need more time to process. It's a game that may be difficult for many people to play, it may resonate and feel painful to some, it may anger others, or feel hopeful to still others. You might feel all of those things when playing it. It is all those things and more.

Clubhouse Games: 51 Worldwide Classics: If there is a runner up to ACNH in my house for best distraction in 2020, it is Clubhouse Games. My partner and I played this religiously throughout the year, right up to New Years Eve. Clubhouse Games is a meticulous collection of 51 traditional board and card games with a few sport/pastimes thrown in for good measure. Not only is it a fun way to play games with friends and family (even over long distances) it is also a thoroughly superb way to learn how to play each and every one of the games I noted collection. Nintendo crafted a simple and inviting tutorial system that will help even the easily confused to learn to play. It's fun, and educational. What more could anyone possibly want!

The Longing: If I only knew how prescient this game would be when I began playing The Longing. Like me, the poor little creature is sealed in his home, waiting. While unlike me he is waiting in a vast underground lair, for his King to awaken, we do share a sense of longing for something just out of reach. And for those who have played the game, what we both long for is not at all very different. And like the poor little servant in The Longing, I did everything I could this year to make my small, cramped living space slightly more livable, slightly more cozy and inviting because that space would remain my only space for month on end. The Longing captures a perfect slice of the feelings that exemplify living in 2020, and probably deserves more recognition that it received this year.

Spider-Man: Miles Morales: This game is a joy to play. Somehow Insomniac managed to make a follow-up to their first Spider-Man games that feels more fun to play in every way conceivable. Traversal is somehow better. Combat is somehow better. The city in Winter/at Christmas is definitely prettier. And Miles is my Spider-Man. Sure, I grew up with Peter Parker. But I also grew out of reading Spider-Man comics with Peter Parker. Miles brought me back and has become a huge part of my revived love for all things Spidey. The game still has it's flaws, chief among them the fact that Insomniac stumbles when it comes to dealing with representations of the police, but part of that is unfortunately baked into Mile's storyline from the comics, and Marvel writer's complicated relationship with representation of systems of authority and power. It's something I can't completely give Insomniac a pass on, but I still think they did many other good things with the game and it remains the only game of the year that I played twice back-to-back simply because I wanted to experience it all over again.

The Last Campfire: This game is a very sweet, if not somewhat simple, exploration of grief and death. It's also a beautiful little 3D puzzle game that is very enjoyable to play thanks to uncomplicated mechanics and a wonderful narration. I largely don't fault The Last Campfire for the simplified exploration of its central themes because I interpret the game as an interactive storybook. This is partially thanks to the very deliberate and direct narration that reminds me of someone reading a bedtime story. The narration is soothing, even if some of the themes are difficult. But it is also hopeful and bright. The Last Campfire does a wonderful job weaving a delicate tale about the things we ultimately lose, but also the things we gain on the journey there.

Streets of Rage 4: I bought this on a whim because Special Reserve still had physical copies after their initial shipment, and I was intrigued by the art. I've played previous games in the series, but only in passing because I didn't own a Genesis as a kid. Picking up Streets of Rage 4 was a gamble, and it paid off. This game nails it's execution in every single way that I fee River City Girls missed the mark last year. While River City Girls still has some redeeming qualities, Streets of Rage 4 knocks it square in the jaw and out of the park. Story mode is fantastic. Multiplayer is fantastic. This game is a joy to play and I'm glad I took the risk picking it up.

Carrion: likely the most visceral of the games I played this year, Carrion is a game about being a monster. Not a metaphorical monster, nor something simply misunderstood, you are a pile of flesh with mouths that rends its way through a facility filled with scientists and soldiers, eating and ripping its way to freedom. A theme that seems to populate several of the games I played this year, movement is at the heart of the game. Never have a played a game that captures both a feeling of raw power combined with a fluid mass of malleable form s well. Carrion lets you become a monster, and it feels fantastic.

Final Fantasy VII: Remake: I didn't know what to expect going into this remake, and I am sure I feared that Square Enix simply couldn't pull it off without failing on some level. Yet fail they did not. More than that, they succeeded spectacularly, creating a game that is both in dialogue with and distinguishes itself from the original. Did it hit me in the nostalgia centres of my brain and heart? Of course, but it also did much more than that. It broke from the story of the original enough to make me love these characters all over again, in a new, often more profound way than I ever could have with the original. Cloud, Aerith, Tifa, Barret, Red et al. all have more depth, and humanity, more character and story, than they ever did before and I am here for that. I am here to travel on whatever fantastical nonsense journey they have in store for me.

Wide Ocean Big Jacket: there is a central idea or feeling that I think Wide Ocean Big Jacket captures, and it is expressed at one point during the game. I have condensed it a bit to fit within the following image, but I think this captures what made this game click for me: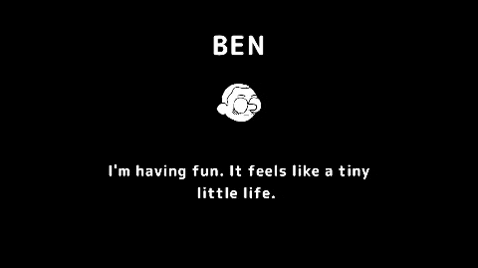 Honourable Mentions:
Doom Eternal: Doom Eternal gets several things right, including some elements that drastically improve on the original 2016 game, but it falters in ways that make it difficult for me to love as much as the original. One of them is platforming sections that I feel take away from the otherwise very enjoyable action of the game. The other is collectibles and bloat, neither of which adds value to the game.

The Pathless: I will admit, the Pathless has flaws. It's not a perfect game. During at least two boss fights I wished for a FoV slider so that I could see more around me because attacks were frequently telegraphed just off screen. Other times I grew frustrated with the fact that the developers bound to different forms of the jump or updraft mechanic to the same button, making it difficult to nuanced control. And navigating the map had its issues as well. While most of the time I could find my bearings using landmarks, there were occasions when finding a final shrine was nearly impossible due to the inability to see perfectly around every corner. Yet despite these flaws, The Pathless imparts a sense of movement and fluidity of traversal that rivals the near perfect traversal mechanics in Spider-Man: Miles Morales. Movement in The Pathless feels joyous, nimble and freeing. It feels natural from the moment you start the game, like an extension of the players own movement through real space yet amplified and expanded. And combat, a mechanic that is built directly upon and an extension of the traversal system in the game, feels equally freeing. The end result is a game that feels nearly perfect to play despite its flaws, that feels like a breakthrough in traditional movement and traversal mechanics that have remained largely the same across 3D games for decades.

Spinch: Spinch is not perfect, but it is loud and psychedelic (thanks to Jesse Jacob's art), absurd and surreal, and a blast to play even if it can be tough as nails hard. It's not for everyone, but if you ever thought "I could use a game that is as hard as Super Meat Boy but is a trip on acid rather than a trip to the abattoir", this is the game for you.

Townscaper: to be fair, it is hard to really rate Tonwscaper. It is currently in early access and in many ways very bare bones. But it is also a superbly relaxing town building game that has zero stakes and only good vibes.

I am Dead: I am Dead is a sweet and earnest exploration of memory, personal stories, and community. It stumbles a bit with it's ideological approach in places, and carries a bit of colonialist baggage, but does try very hard to be inclusive and thoughtful despite its blindspots.

South of the Circle: an excellent exploration of the nature of, and failings, of memory as well as historical ideas about masculinity and, to a lesser degree, femininity. I may have liked a version that explored these concepts through the character of Clara.

Granblue Fantasy: Versus: Of the several Arc System Works fighting games my partner and I played this year, Granblue Fantasy: Versus struck a chord. Perhaps it is due to the slightly simplified controls, or due to the single player mode that borrows RPG elements to create something more compelling than the average story campaign. Whenever it was, it was memorable enough to place on this list.