I can't believe it's been over four years since I started using Grouvee! My backlog just dipped below 40 games for the first time since, and I happily renewed my Gold subscription. Thanks, @peter!
I'm a web designer by day, and recently I was trying to brush up on some of my CSS Grid Layout knowledge. I like to learn things with actual content, so I used one of my Grouvee shelves as inspiration and made this small screen redesign of each row: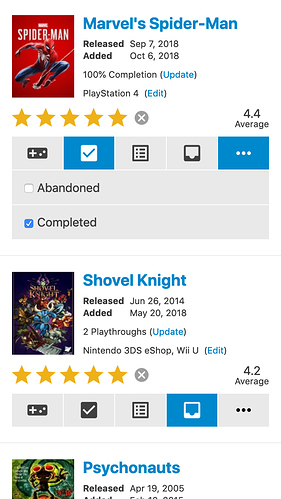 You can try it out in your browser or your phone, but it's only optimized for small screens, and it's super rough… the ratings and shelves are interactive, but nothing else is. It's also more of a UX-focused wireframe, I didn't spend a lot of time on the visual design of it. It was really just a test bed for trying new stuff.
I personally dislike unsolicited redesigns. It's super easy for someone to revise something with only a few of the features fleshed out and no understanding of the technical constraints. But a friend encouraged me to share it as website "fanart," so I figured why not?