Bonjour
Peut on créé une étagère dans Grouvee ?
Bonjour!
Go to "my games" > left side, scroll down > click "add shelf"
translated with Deepl:
Allez dans "mes jeux" > côté gauche, faites défiler vers le bas > cliquez sur "ajouter une étagère"
Bonjour
Malheuresement je ne trouve pas ?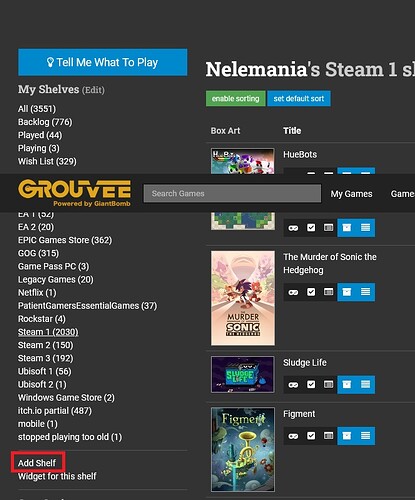 autre possibilité:
click on the three lines right of a game you have already shelved and on the bottom of the pop-up window add the new shelf and click "GO"
cliquez sur les trois lignes à droite d'un jeu que vous avez déjà mis en rayon et, en bas de la fenêtre pop-up, ajoutez le nouveau rayon et cliquez sur "GO".