I've been talking about this feature for a while now, and I've finally released a version that I like well enough to put out for you guys!
You can now add specific releases of a game to your shelves.
This does two things visually to your collection. The first is on your shelf pages.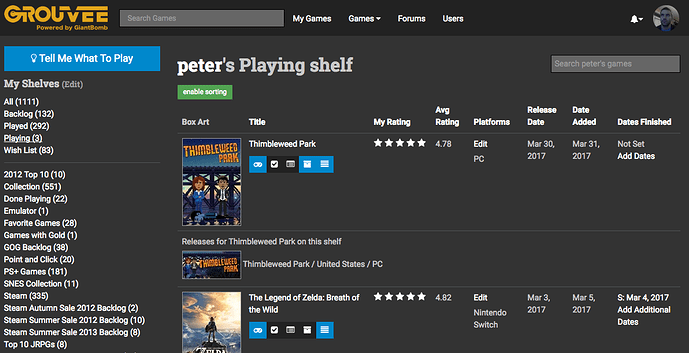 You now will see the releases you've added to your shelves on the individual shelf pages. Hopefully that's fairly straightforward.
The second is on the game pages.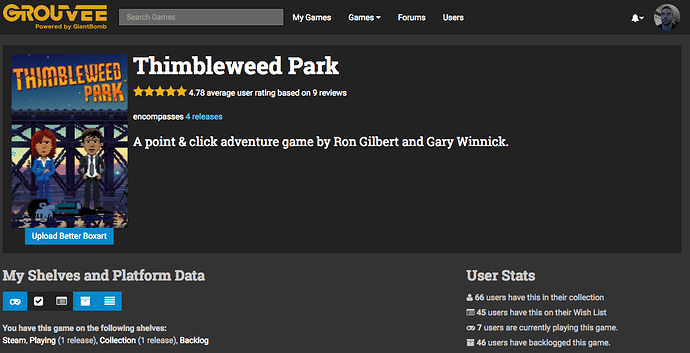 You will now have a list of what shelves you have the game on, plus it will tell you how many releases are on that shelf. This seemed like the simplest, least cluttered way to indicate that you have releases on your shelf. If you want to see which releases you have on a shelf for that game, just click the link for the shelf page and it will snap you down to the game entry on that shelf.
How do you add a release to your shelf? It's pretty simple we hope. On every game page, there is a link that points to the releases page for that game. On the releases page, you'll see the familiar shelf tools you're used to. Simply find the release of the game you're looking for, and click the corresponding button for the shelf you want to add that release to. It's that simple!
Please let me know what you think, or how we could maybe improve this.