Hi, fellow Grouvee users!

Since 2010, my friend and I occasionally make casual, pick-up-and-play games for iOS under the name Backabit.
Our first game, Ramps, was featured by Apple and has "generally favorable" reviews on Metacritic. Believe it or not, it actually broke the App Store Paid Top 10 for about a week!
Our second game, Lotsa Blocks, had what a very kind person might call "more modest success," but we learned a lot making it.
We're currently putting the finishing touches on our third game, but we're interested in some fresh perspective just in case our friends, family and coworkers have missed something along the way.
The new game is all about timing and direction. You must guide the hapless astronaut from planet to planet, orbiting as many as possible. Here's a screenshot I just took from the current build: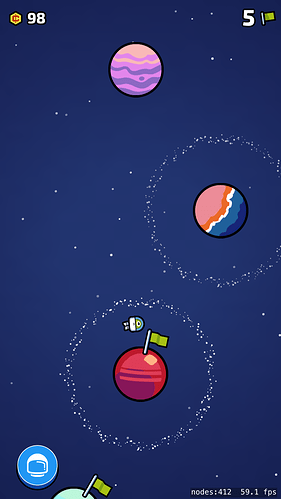 If you own an up-to-date iOS device with iOS 10 installed, you'd like to try out the beta and you're willing to provide feedback, please reply to this thread. I'll follow up via private message for your details.
Please note that space in the beta is limited. Depending on how many people want to join, we may not be able to follow up with everyone who replies. But it'd be great to get a handful of my fellow Grouvee users' thoughts before everything's buttoned down!