I was mistaken. It's a "pendulum clock"
Thanks to @bmo my arcade has all its machines. Just need a bit more neon for the walls!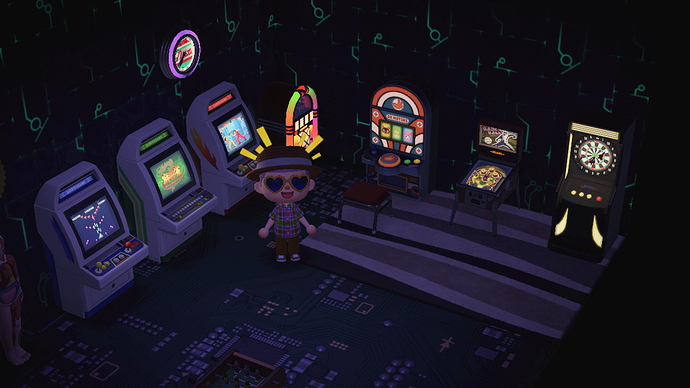 I'm storing turnips in mine arcade. I'll take a picture of it later and share.
I did a bunch of house moving to make a suitably massive turnip storage area. Got 9000 of the beggars in there at the moment
I'm starting to slow down this week. Only bought 150 stacks.
Yesterday Doc sent me a present in the mail. It was a serene painting. A genuine one! Madness.
Wow. I had no idea that could happen
I should be getting ready for work but instead I'm doing flips off rocks. I don't care.
Does anyone have a simple panel in their catalogue? I neeeeeeds it
Which colour? I have black, white and copper.
I didn't know they came in anything but white

So … white?
Thanks

Black, brown, copper, gold, grey, light brown, silver and white.
Crikey. I guess that if you put a custom design on it, it's just the colour of the border?
Correct. Those are the boarder colours. Does that change what you want?
For anyone looking for items, here are some updated lists:
Update: I managed to add all the clothes I can order.
I am still working on a list of clothing items I can order. The import tool (@CatalogScanner) I am using doesn't parse the colour variations you can order, so it just adds every colour for any item you own, even if you own that item in only one colour. As a result it imports a whole lot more than you can actually order. As a result I haven't run the tool because I have to be prepared to clean up my list. And I own a lot of clothes, so I fear that I'll end up have to do a lot of cleanup. I'll get there eventually.
If there is anything you are looking for, I might have it so don't be afraid to ask.
Ah, I didn't see this. Thanks for the selection! My castle may look less like a pile of dirt in the near future

The arduous task of cataloguing is what's stopped me publishing a list. Are there a few sites for publishing a catalogue? I've not really looked
Do you want a catalogue site, or to publish to a spreadsheet?
I use Nook.Maket. There is also Nook.Exchange, Nook Plaza, and Villager DB, but I haven't used any of those for cataloguing.
@CatalogScanner scans a video that you make of your catalog. It then provides you with an exportable list of items, which believe can be plugged into a spreadsheet. You can also have it output to Nook.Market, Nook.Exchange, Nook Plaza and Villager DB. It's an impressive tool, but as I mention above, it has its limitations.
Edit: I am wrong about exporting to a spreadsheet. You can only obtain a text file, or import into one of the databases listed above.
Does anyone think the Fishing tourney this Saturday will have different prizes than those awarded during the first event?