It's because of the bug off tomorrow. Maybe Isabelle could have mentioned this news? smh
I think the same happened to me during the first fishing tourney, so I was less surprised this time. Was very surprised the first time.
I've started populating my nook.market account with a list of things I can order. It is a bit of a tedious process, but I thought it the best way to note down what I can order for other people, if anyone is looking for specific items and colour variations. I'll try to update it regularly.
Hippeaux is hanging out in my campsite today, if anyone is looking for a new villager.
Does anyone have the pastel book stand? Or can anyone order one. Will pay handsomely.
I seldom have anything bad to say about this game, but the bug-off really stinks.
If anyone missed the Bug-Off and wants some of the items I have duplicates of a few things.
What makes it worse than the fishing tourney?
I have arcade fighting machine but would love the other two to go with it
The spawn rates mostly. I had a couple rounds where nothing spawned at all. Also the general value of bugs makes it less worthwhile overall. At least with the fishing tourney you could throw down bait and all fish up things worth we'll over 10k. I probably made more in a couple rounds of the fishing tourney than I did all day with the bug-off.
That said my partner loved it because it was less repetitive than the fishing tourney.
If anyone comes across an antique table, chair or clock in black, please let me know.
Actually I did notice that the spawn rate dropped as soon as the clock started. That was annoying. I believe I have a black antique clock.
I was mistaken. It's a "pendulum clock"
Thanks to @bmo my arcade has all its machines. Just need a bit more neon for the walls!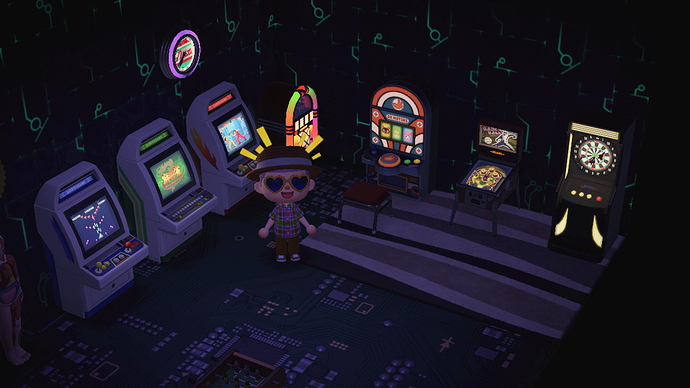 I'm storing turnips in mine arcade. I'll take a picture of it later and share.
I did a bunch of house moving to make a suitably massive turnip storage area. Got 9000 of the beggars in there at the moment
I'm starting to slow down this week. Only bought 150 stacks.
Yesterday Doc sent me a present in the mail. It was a serene painting. A genuine one! Madness.
Wow. I had no idea that could happen
I should be getting ready for work but instead I'm doing flips off rocks. I don't care.